I'm at work at the time I'm writing this and usually, I don't snack a whole lot at work. I try to alternate between water and coffee to keep something in my mouth and maybe eat a piece of fruit or a few licorice twists (which I've just recently fallen in love with) if I have it and am getting hungry. It's odd to say but in general, I'm not much of a snacker for an overwieght person. You know me, bucking stereotypes left and right.
There is a clarification to be made. I should say that I'm not much of an active snacker. I don't normally go out of my way to get a snack or have a snack. However, if I'm at a person's house and snacks are out, I tend to snack alot. If I'm having a party and I put out snacks, I tend to hover around them. Good thing I don't have a lot of parties.
The place I do the most snacking is on trips. On the train or bus home to Detroit, I'm almost non-stop eating. I'll buy some chips or candy or something, try to stick a piece of fruit in there, and then also buy some sort of entree for the beginning of the ride. It probably comes from having nothing else to do except watch movies and eat. Again, lucky I don't travel alot.
Now that I've made those disclaimers, I'm currently snacking. I had a feeling today was going to be an "I'll need a snack" kind of day. I went with one of my absolute favorites , the number one on my …
Top 5 Snacks
1. Sesame Sticks
I'm not all together sure what these guys are, but man are they delicious. I'm looking at the ingredients on the little bag I got at Walgreens and apparently it's simply wheat flour, sesame seeds, and salt. Simple, saltly, crunchy, and delicious. I've had them in different flavors like roasted pepper and honey roasted and I enjoy both, but nothing can top the original.
2. Popcorn
I love popcorn. I love movie theatre popcorn to a point where if I've made plans to go see a movie, I get just as excited about having popcorn. If those plans are later cancelled, that craving for popcorn will stick with me until slated. However, I also love cheddar popcorn. I had some amazing popcorn at a Farmer's Market a few weeks ago from a place called Mother Butter's. Later on, when going o a Tigers v. White Sox game, I took Kristen to their store front to sample their wares. Standout flavors for me included Bananas Foster and (one of the ones I bought) East Meets West White Cheddar, which was White Cheddar Popcorn seasoned with Indian Curry spices. There's rarely, if ever, a time I don't want popcorn.
3. Tortilla Chips and Hummus
I owe my beautiful bride to be for this one. I've liked hummus ever since I was first convinced to try it. I've always been a picky eater, but a few years ago, I decided to at least try some new stuff and hummus was on that list. Being close minded thought, I thought pita chips was the only thing that could possibly go with hummus. It was only a month or so ago that my lady suggested good tortillia chips as a vessel for hummus. Apparently, this is how she always eats it. My mind was blown some poor snack was blasted off of the top 5 snacks list.
4. Graham Crackers with milk
I've got to have the milk. It's a requirement. I like to take the graham crackers, dunk it have way in the milk, count to 15 (so that it gets really soggy) and then eat it. I've tried eating them dry and it's just not the same. Have you guys figured out how particular I can be yet?
5. Better Made Cheese Puffs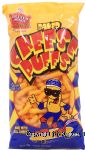 There's a weird thing that happens to the Better Made Cheese Puff which I can't explain. Most of the puffs are dry, like your average puffed cheese snack. Tasty and wonderful, but nothing that blows your mind. But what's strange is the bottom of the bag. This is going to sound gross, but I promise it's not. The bottom third of the bag is extra cheesy. As you get further down, the cheese puffs are almost damp. In my head, I get grossed out thinking that it's just grease. But whenever I get my hands on Better Made Cheese Puffs (Better Made is a brand local to Detroit and their cheese puff is not produced at such a high volume as they used to. In fact, you have to get the giant bag, cause they don't make a smaller snack size, from what I can tell when I'm home. Correct me if I'm wrong Detroiters), I'm always looking forward to the bottom third of the bag.